Samsung Galaxy I7500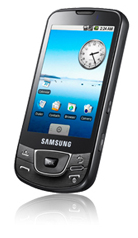 I got into the hype and bought this as my first android phone.
It's a cute phone with some nifty features. It runs the google android system, which is nice since the system is pretty easy on the programmer. And I bought it mostly for programming and playing.
How do I like thee?
The phone in itself has nice specs for a 2 year old smartphone. And it served me well for a year or so until I got the Nexus one. The worst thing about this phone was the very short and unpredictable battery life which samsung never managed to solve.
Unfortunately this phone has a few problems. The first one being that awful samsung utility you need to install on a windows computer to be able to update the phone. I run Linux, so this sucks.
Actually it turned out not to be much of a problem since samsung decided to abandon this model. So my galaxy is still stuck on Android 1.5. Because of this I mostly use the galaxy for backwards compatibility testing.